John T. Rex is the 5th card Peter Excho has completed in The Living Freaks Collectible Series.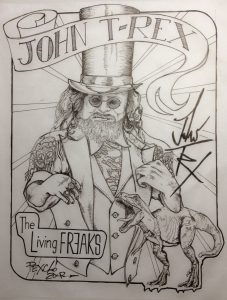 John T Rex is a Human Oddity – a Natural Born Freak.  His arms, almost lacking any forearms, are only about half the length of a "normal" Human. He has other minor skeletal issues as well.  While not allowing his physical anomalies to define him, John has learned to use them to his advantage, by working in the field of Entertainment.
John began his career as a musician, and is an accomplished drummer.  In 1998, he began performing in a sideshow just for fun, when some friends in New Orleans, Louisiana invited him to be part of the infamous Knownothing Zirkus Sideshow.  After Hurricane Katrina devastated New Orleans in 2005, John traveled on to perform with the legendary World of Wonders Sideshow and Jim Zajicek's Big Circus Sideshow, among others.  John's sideshow career really took off in 2008, when he discovered he was one of the few people in this World that was immune to the lethal effects of Electricity!  He has also done some acting – most notably, as a featured background performer in the 2008 Toby Keith film 'Beer For My Horses'.
More about John T. Rex on his Facebook Page – https://www.facebook.com/ElectricJohnTRex/
Coming Next – Thrill Kill Jill!